Keg Sentry - Designed to Provide Years of Maintenance Free Operation
Bill Johnson, Keg Essentials Founder, was responsible for Keg Sentry's complete design and development process. Bill has over 45-years experience in the telecommunications' industry, where he served in his last corporate position, as Vice President and Chief Technology Officer of a Fortune 500 Company.
Bills years of experience largely focused on the design, development, and construction of microwave and fiber-optic transmissions systems, and large data centers. Reliability is of the utmost importance in this field of engineering, given that a single outage on a fiber-optic transmission system can literally cost a company millions of dollars per minute in lost revenue. Bill has incorporated this extensive experience into the design of Keg Sentry.
When Designing any Electronic Product, High Reliability is Synomious with Simplicity
Keg Sentry follows a design principal known as NO SINGLE POINT OF FAILURE. Simply stated, this engineering process asserts that if one Monitor Set fails (one tap), it will not affect monitoring on any other taps. The failure is corrected by plugging in a spare Monitor Module or Flow-Sensor, without the need for intervention from any third party, for example, an Internet service provider, or a help desk, to sort out a software problem.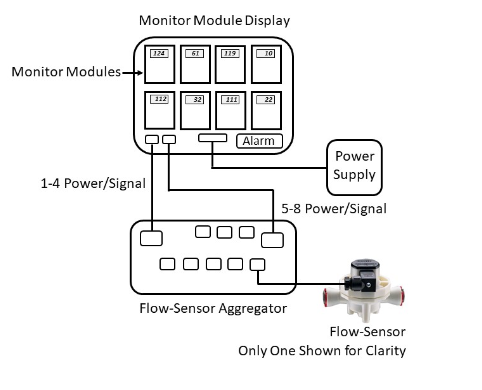 This simple drawing illustrates a Keg Essentials Eight-Tap Monitoring System. Eight Monitor Modules are installed in a Monitor Module Display, and eight corresponding Flow-Sensors are connected to the Flow-Sensor Aggregator located in the cooler. The purpose of the Aggregator is to provide a local point in the cooler to connect, reduce, and organize the eight sets of Flow-Sensor cables into a single pair that connects back to the Monitor Display. The entire system is then power by a single High-Reliability Power Supply connected to the Monitor Display, eliminating the need for an AC outlet in the cooler.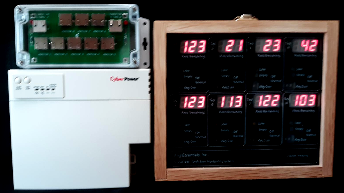 Fixed Monitoring Systems are available in two sizes: Eight-Taps (shown) and 12-Taps. Either Monitor Console occupies less than one square foot of mounting space. These systems are designed for bars with four or more taps. For example, if a bar has six taps, an Eight Tap Console is installed with six plug-in Monitor/Flow-Sensor sets.
Monitor Systems are grouped for larger bars. For example, three 12-Tap Systems can be installed in a bar with 36-taps spread out equally on three towers. One High-Reliability Power Supply powers all three Systems.
Fixed Monitoring Systems are designed to be permanently installed in any location within an establishment, such as at the bar, or in the managers office.
Keg Sentry's Smart Power Supply is used extensively in Fiber-to-the-Home broadband networks such as FiOS. During a commercial power failure Keg Sentry receives a signal from the Power Supply that turns off all of the bright LED Displays to extend battery life. For example, the Eight Tap Monitor shown in the photograph can survive approximately 30-hours on battery backup.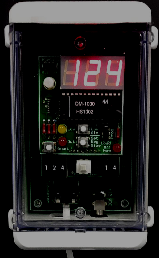 Monitor Module Display showing pints of draft beer remaining in eight 124-pint US kegs.
Kegerator Monitors are designed to be small and portable, and, if required, move with their kegerator without the need for commercial power for long periods of time. While currently available in one and two tap models, Keg Essentials can rapidly design larger versions for use in applications such as sports and entertainment venues.
Monitors are mounted in high impact ABS plastic with pop open clear covers. Unlike their "Fixed" counterparts, Kegerator Monitors are power by Lithium Batteries that can operate the Monitors for as long as 24-hours without commercial power. As with "Fixed Systems" this long battery life is possible due to the ability to "Blank" or turn off the Monitors bright LED Display.